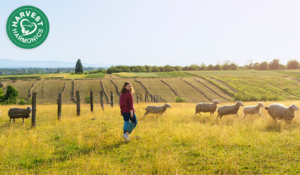 Setting sustainability goals is a crucial step towards achieving more sustainable farming practices.
After evaluating current farming practices, it is essential to determine what needs to be done to improve the sustainability of the farm.
The goals that are set should align with the specific needs of the farm and consider the environmental impact of farming practices.
Here are some steps to set sustainability goals for your farm:
1. Identify key areas for improvement:
The first step towards setting sustainability goals is to identify the areas that need improvement on the farm. This could include reducing chemical inputs, conserving water, improving soil health, or reducing greenhouse gas emissions. It is important to conduct a thorough evaluation of current farming practices to determine where improvements can be made.
2. Prioritize goals:
Once the key areas for improvement have been identified, it is essential to prioritize the goals based on their impact on the environment and the farm's economic viability. It is important to focus on the goals that will have the most significant impact on sustainability and the farm's bottom line.
3. Set specific and measurable goals:
Setting specific and measurable goals is critical to track progress and evaluate success. For example, instead of setting a general goal to reduce pesticide use, set a specific target to reduce pesticide use by 50% over the next five years. This helps to provide a clear target and a timeframe for achieving it..
4. Determine a timeline:
Setting a timeline for achieving sustainability goals is essential to keep the goals on track and provide a sense of urgency for making changes. It is important to set realistic timelines that take into account the time and resources required to achieve the goals.
5. Involve stakeholders:
Involving all stakeholders in the goal-setting process is critical to ensure that everyone is on board with the sustainability goals and can work together towards achieving them. This includes employees, customers, and suppliers. By involving all stakeholders, everyone can contribute to the success of the sustainability goals.
6. Review and revise goals:
Regularly reviewing progress towards the sustainability goals and making adjustments as needed is crucial to ensure that the goals remain relevant and achievable over time. This helps to ensure that the goals are aligned with the needs of the farm and are achieving the desired results.
By setting sustainability goals, farmers can work towards improving the environmental impact of their farming practices. By reducing chemical inputs, conserving water, improving soil health,(all of which can be assisted by Crop Booster) and reducing greenhouse gas emissions, farmers can improve the long-term sustainability of their farms. Setting specific, measurable goals and involving all stakeholders in the process can help to ensure that sustainability goals are achieved.
---