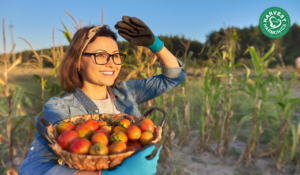 In this issue, we will be talking about the transition to Sustainable Agriculture.
Sustainable agriculture is a way of farming that protects the environment and ensures the long-term productivity of the land. It's a system of farming that seeks to balance the needs of people, the environment, and future generations.
There are many challenges to transitioning to sustainable agriculture, including:
Lack of knowledge:

 Many farmers may not be familiar with sustainable farming practices. They may not know where to get started or how to make the transition.

Cost:

 Sustainable farming practices can be more expensive than conventional farming practices. This is because they often require more labor and time.
Despite the challenges, there are many reasons why it is important to transition to sustainable agriculture. These include:
Environmental benefits:

 Sustainable agriculture practices can help to reduce pollution, improve soil health, and conserve water.

Economic benefits: 

Sustainable agriculture can be more profitable in the long run. This is because healthy soils are more productive and less prone to pests and diseases.

Social benefits:

 Sustainable agriculture can help to improve the health of farmers and their families. It can also help to create jobs in rural communities.
If you are a farmer who is considering transitioning to sustainable agriculture, at Harvest Harmonics we will help you achieve that. Our technology boosts the natural ability of the plants. So they are able to absorb more out of the environment which means less inputs, less cost and the same or better yields.
We believe that sustainable agriculture is the future of farming, and we are committed to helping farmers make the transition.
If you are interested in learning more about how Harvest Harmonics can help you, please visit our website or contact us today.
I hope this information is helpful. Thanks for your time.
Wishing you a bountiful harvest,
Jim Kurtz
Senior Farm Consultant
Harvest Harmonics
---