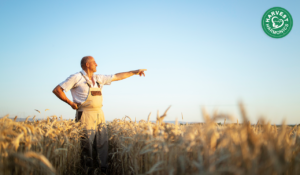 In this issue, we will be talking about the benefits of sustainable farming
Sustainable farming is a way of farming that protects the environment and ensures the long-term productivity of the land. It's a system of farming that seeks to balance the needs of people, the environment, and future generations.
I haven't talked to a farmer yet that hasn't agreed with the IDEA of sustainable farming. The problem seems to be How can they transition from the conventional methods of farming to more sustainable methods.
This is where Harvest Harmonics Crop Booster fits in.
This attachment to an irrigation system works to keep yields high while being able to reduce fertilizer, pesticides and water usage. Based on a new bio-physical breakthroughs and the centuries old laws of harmonics,  this is the Bridge between conventional farming and sustainable.
There are many benefits to sustainable farming which Crop Booster can help you achieve these on your farm, including:
Improved soil health:

 Sustainable farming practices help to improve soil health by reducing erosion, increasing organic matter, and promoting biodiversity.

Crop Booster increase the energy production of the plants so they  exchange more food with the microbial colonies in the soil.  This leads to healthier soil which then leads to healthier crops.

Reduced pollution:

 Sustainable farming practices help to reduce pollution by using less water, fertilizers, and pesticides.

Crop Booster increases and enhances the plants natural ability to protect themselves from insects. It also while increases root growth and absorption of water and nutrients through of the root system.

Plants continue to grow and produce more yields while using less water, fertilizer and pesticides. This protects our waterways and air quality.

Increased biodiversity:

 Sustainable farming practices help to increase biodiversity by providing habitat for pollinators, beneficial insects, and other wildlife. This helps to maintain a healthy ecosystem.

Higher yields:

 Sustainable farming practices can actually lead to higher yields in the long run. This is because healthy soils are more productive and less prone to pests and diseases. Crop Booster has been field proven to increase yields in field tests,

Economic benefits:

 Sustainable farming can also be economically beneficial for farmers. By reducing their input costs and increasing their yields, farmers can make more money.
If you're interested in learning more about sustainable farming and how Crop Booster can help, please do not hesitate to contact us with any questions or comments.
I hope this information is helpful. Thanks for your time.
Wishing you a bountiful harvest,
Jim Kurtz
Senior Farm Consultant
Harvest Harmonics
---